FUGUE by Studio ThinkingHand
FUGUE | Studio ThinkingHand x Kvit
OPENING 24th May 17-22
Performances by NULEINN, My Marie Nilsson and My Djørup
We are excited to invite you to FUGUE, an exhibition by Studio ThinkingHand that explores an expanded notion of subjectivity in a journey to embody a posthuman gaze. Navigating border zones of existences, Studio ThinkingHand will exhibit new works that bring together biological, industrial and technological elements of living species, sculptures, video works and performances.
Join us for the opening night where the exhibition will be inhabited by NULEINN as cybernetic parasites, My Nilsson as a decentralised body mass and My Djørup as the H Y B R I D 0.7, that will unfold their performative practises within the exhibition, in a fugue of counterpoints and fragmented flows that are individual yet in a dialogue.
Between May 24 and June 2nd the exhibition will be open every day from 12:00 – 18:00, except on May 29 where the exhibition is open from 11:00 – 15:00 and by appointment only.
To make an appointment write us an
email
.

(performance time schedule beneath pic)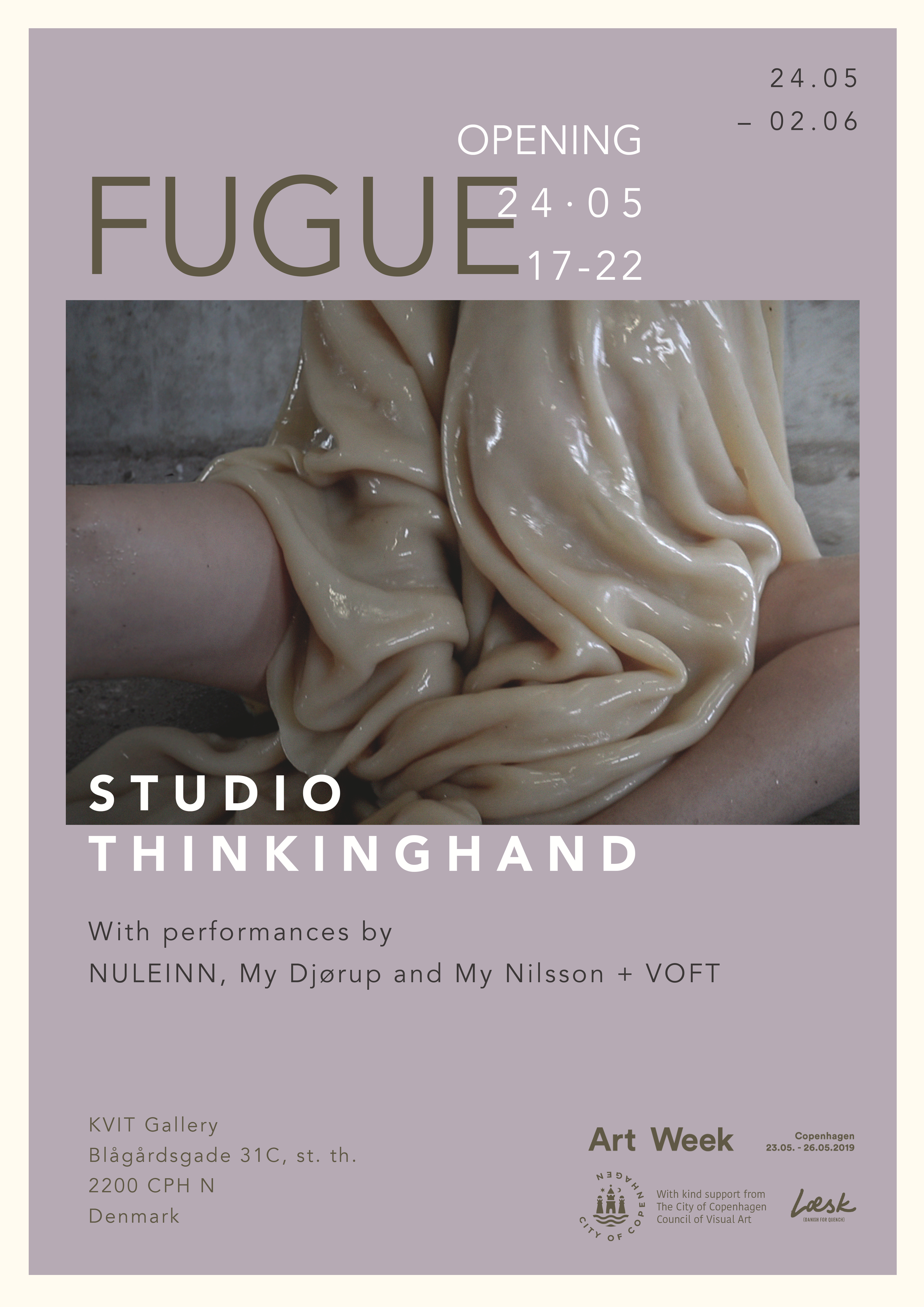 The performances are all fluid but here is a rough guide.
17:00-19:00 – Eukaryotic by My Nilsson in collaboration with VO/FT Valeriya Olkhova
17:30 – Initiation
17:30-18:30 – Make kin not babies by NULEINN
18:00-19:00 – Carriers
17:00-20:00 – H Y B R I D 0.7 by My Djørup
Sunday 26th
12:00-14:30 – H Y B R I D 0.7 by My Djørup & NULEINN reading
ABOUT THE EXHIBITION
Rather than being the object of our protest, how do we extend awareness of the lively activity of all beings and open to listen and relate to 'nature' and technology's autopoietic agency?
FUGUE is an investigation into embodying a Posthumanist gaze and a practice of observing and relating to complex entanglements and interactions that exist beyond a human scale and perception. A Posthumanist perspective posits a move beyond lethally dualistic Humanism, issues of power and entitlement in the age of globalisation and advanced capitalism, and calls for self-reflexivity and interdependent collaborations with multiple others in a collected sense of identity. Theorists such as Rosi Braidotti and Anna Tsing point towards new conceptual creativity in non-deterministic or controlled preconditions seeking affirmative counterpoints in unknown futures. Breaking down the human-nature divide, Studio ThinkingHand investigates and embodies Posthumanist theories that urge us to think critically and creatively about who and what we are in the process of becoming.
Supported by Københavns Kommune, Rådet for Visuel Kunst (Copenhagen Municipality Council of Visual Art)
ABOUT THE ARTISTS
STUDIO THINKINGHAND
Studio Thinkinghand are Rhoda Ting (b. 1985, AUS) and Mikkel Dahlin Bojesen (b. 1988, DK), based in Copenhagen, Denmark. Their work seeks to embody and apply a Posthuman gaze through exploring themes of epistemological aesthetics, entanglement of meaning and matter and co-creation processes that decentralises the human as a species amongst species. Their practice seeks to diffract various gazes across time, spaces, perspectives, species and scales and investigate a movement beyond traditional Humanism and towards open ended flows of becoming.
MY MARIE NILSSON
My Marie Nilsson (b. 1990, SE) studied at the Swedish Ballet School and the Professional Dance Program at Strömbackaskolan in Piteå. In 2009 she was accepted to The Danish National School of Performing Arts and graduated as a contemporary dancer in 2013. Since her graduation she has been working as freelance dancers and performer in Denmark and abroad. She has performed in pieces by Kiani de Valle, MYKA, Palle Granhøj, Cristian Vogel, Teater Minsk, Birdswalk, Martin Forsberg, Danceforce40+, David Zambrano, Kasper Hansen Sophie Bellin Hansen and more. For her performance in FUGUE, My Marie Nilsson have collaborated with designer Valeriya Olkhova from VO/FT.
NULEINN
Through video, performance and interactive installations Rine Rodin (b. 1987,DK) & Magga Ploder (b. 1986, IS) explore possible and impossible scenarios of the future. The duo gets their name from the computers binary language of 0 and 1, however their works are in no way binary. In an oftentimes humoristic, theatrical and participatory way, the duo explores how we act in the world of fleeting digital realities, cyborgs and artificial intelligence. Their works are often created with tactile materials and technology to emphasize their joint existence in our world.
MY DJØRUP
My Djørup (b. 1986, DK) Is a performance artist residing and working in CPH. Since 2014 she has been a part of various performances such as large scale performances with Sisters Academy and ensemble work with the collective MANA:GROUP as well as creating solo pieces. Through her practice, she explores the body and how it moves and never lies, the various ways of taking up space – creating rooms – being curious on movements, laughter and sadness among others/all & everything.