Eliyah Mesayer // AN ARMOUR OF SILVER AND STONE, AND THE DIZZY MAN'S THRONE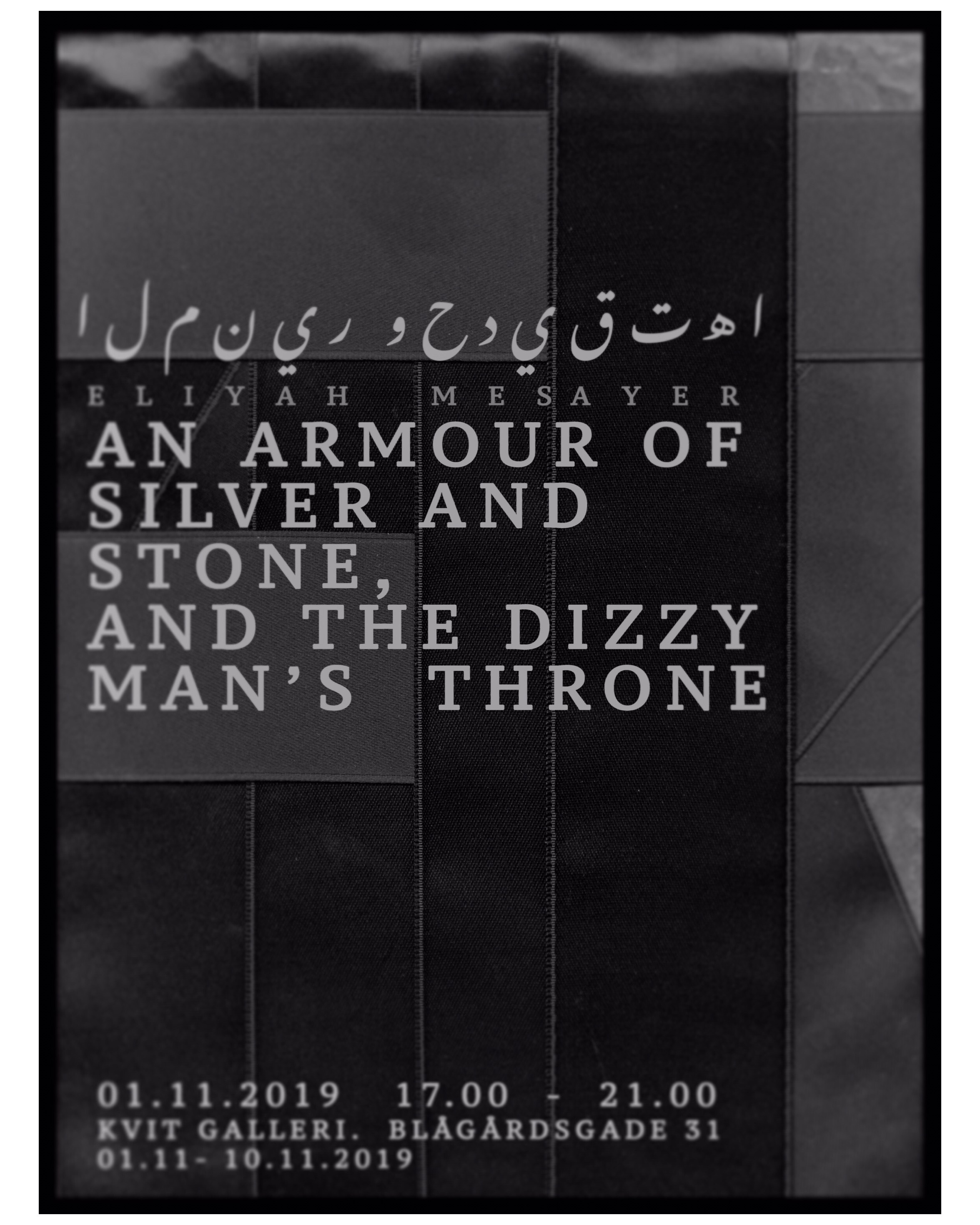 AN ARMOUR OF SILVER AND STONE AND THE DIZZY MAN'S THRONE // Solo exhibition by Eliyah Mesayer
KVIT Galleri 01.11. 2019 – 10.11.2019
Opening hours:
Saturday and Sunday: 13:00 – 16:00.
Monday – Friday 15:00 – 17:00
OPENING NOVEMBER 1st FROM 17:00 – 21:00
DJ Berrin Baş 19:00-21:00
Two sisters seek shelter during a thunderstorm, Mesayer tells the story of bedouin folklore centered in Queen Zenobia's garden. Mesayer invites her audience with a small introduction, a hymn translated from arabic to english written specifically for the exhibition at Kvit galleri.
Septimia Zenobia
Under the arch of white withered roses
I heard the echoes of a thunderstorm
And the quiet sighs of dawn.
Leave no loved soul behind.
For your mother carried you all this way to do your deed
For a cloudy kingdom blinded by the sun.
Bare feet, and she sings a song,
while her fingers bleed
seek no more, I sang to her
and wait till dawn
There are no seeds to find
In the dark soil of a lost realm.
تحت قوس الورود البيضاء ذبلت
سمعت أصداء عاصفة رعدية
وتنهدات الفجر الهادئة.
لا تترك روحًا محبوبة. لأمك حملتك بهذه الطريقة للقيام بعملك
لمملكة غائمة أعمتها الشمس.
أقدام عارية ، وهي تغني أغنية ،
بينما تنزف أصابعها
لا تطلب أكثر ، غنت لها ، وانتظر حتى الفجر
لا توجد بذور للعثور عليها
في التربة المظلمة لعالم ضائع.
ELIYAH MESAYER
Mesayer's practice reflects on the illuminated, composing chemical processes with different elements of light by using self-made flashes, minor fixed light constructions in the darkroom, natural lightning, fire and even the moonlight. Her main research the past years has been bedouin folklore, arabic hymns the story of an alchemist that changed the meaning of light. Mesayer works by creating her own chemical processes to expand the viewers' traditional way of viewing the photograph. By using the alchemist methods on how to manipulate, interring and changing the act of illuminating the object, being the photograph, Mesayer paints with light, and creates a free passage between the act of painting and the photograph.
DJ Berrin Baş.
Baş "travels" between Turkey, Iran, Romania, Albania and Arabic countries, far away from The West.
The timeline starts from 1930s fasl-i Beyoğlu in Istanbul, further to 1960s and 70s in Iran and regions around, and ends up around this time in 2019. Besides her Dj'ng, Baş is also the front singer in the Turkish psychedelic rock band, Tuhaf, and has been in many different types of Turkish orchestras, the past ten years.