KVIT 1 ÅR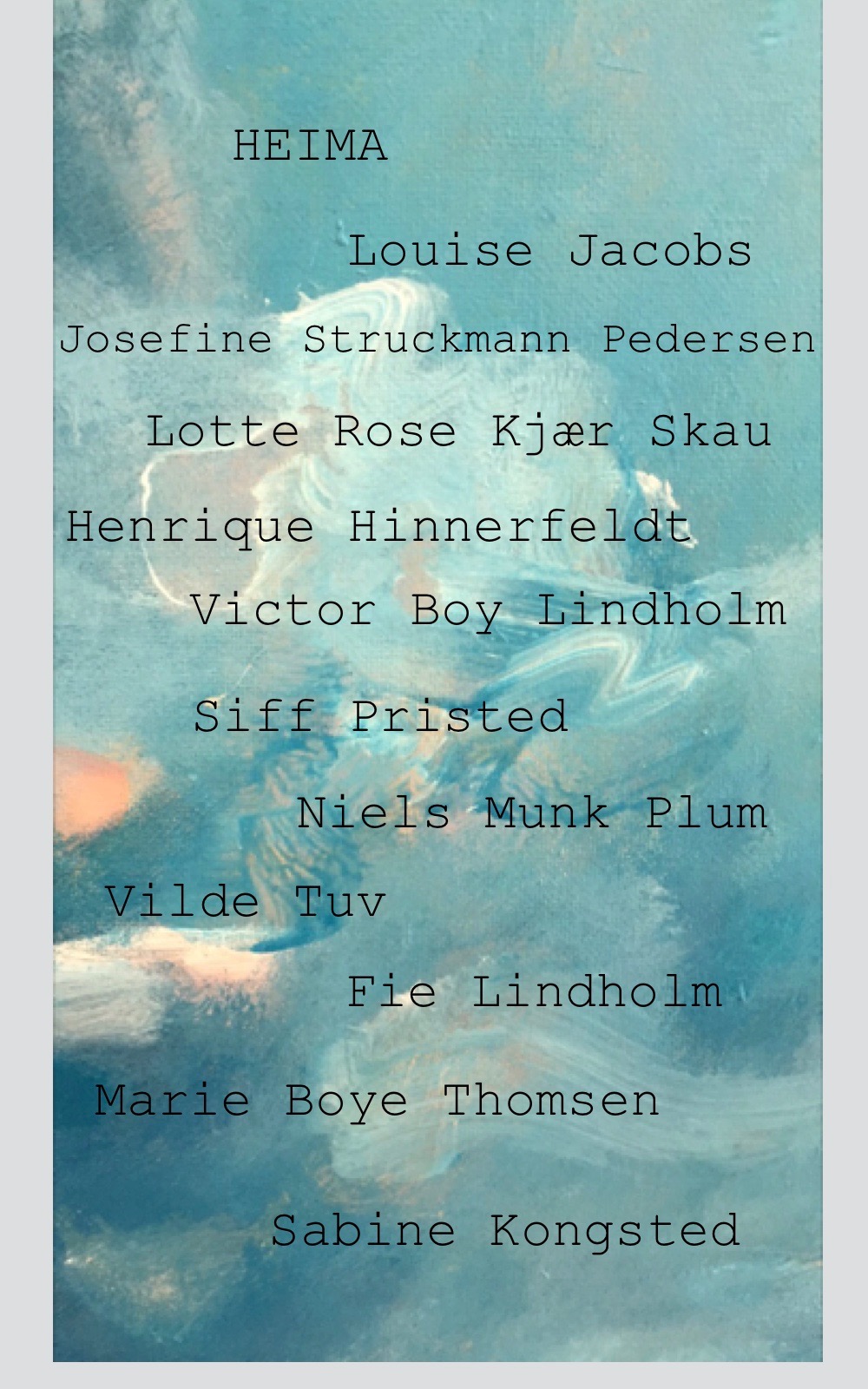 On Saturday the 5th of November KVIT has existed in the world for 1 year, and we would love for you to come celebrate with us!
LOVE, Ingjerd & Astri
///
Saturday 5.11. 16.00:
Opening of group show with two handfuls of great artists:
HEIMA
Josefine Struckmann Pedersen
Louise Jacobs
Lotte Rose Kjær Skau
Victor Boy Lindholm
Henrique Hinnerfeldt
Siff Pristed
Marie Boye Thomsen
Sabine Kongsted
Fie Lindholm
Niels Munk Plum
Our very good friends from Heima will be a part of the exhibition on Saturday, live from Iceland!
Heima is a multidisciplinary art residency for emerging and established artists located in Seyðisfjörður East Iceland.
Performances by:
Andrea Spaziani
Jade Greene
Maggie McEvoy
Alexandro Michaelangelo Fargosonini
Camilla Munck
Lena Birgisdóttir
Dæ ja
Lasse Høgenhof
Video works by:
Alexandro Michaelangelo Fargosonini
Heidi Zenisek
Jade Greene
Lena Birgisdóttir
Maggie McEvoy
Molly MacLellan
Nanna Mølbak Hansen
Readings by Niels Munk Plum (17.00) and Victor Boy Lindholm. (18.00)
Performance by Louise Jacobs.
Concert with Josefine Struckmann Pedersen.
émotif massif  —-  Kvit Galleri 1 år   5.11.2016
Text by Arash Shahali

One year ago today KVIT gallery opened it's doors to the public.

Founded by Norwegian artists Ingjerd Heggem Nergaard and Astri Styrkestad Haukaas, KVIT was intended to be a platform for unfolding ideas as well as exhibiting them.
Ultimately, it would serve as a window to expose both Danish and international contemporary artists.
KVIT was meant to be a dynamic space, not limited by the boundaries of any art form.
During the past year, KVIT has hosted a baffling amount of artistic events.
From release concerts, readings and pop-up print stores to international group- and solo exhibitions.
There has been a steady increase of international collaborators and artists, through which KVIT is rapidly establishing itself as an artistic interaction space, transcending geographical boundaries.
The social component of an exhibition space has always played a pivotal role in KVIT's events and exhibitions. This is reflected in the overwhelming amount of visitors KVIT has managed to gather in it's short existence.
Whatever the nature of the event, interaction is key. Between an art work and it's beholder, between performer and spectator, and between people in a general sense: KVIT provides a space for a multitude of different interactive constructs, both confirming and questioning them.
In this respect, KVIT has been an art gallery, but also an auditorium, a performance stage, a library, an atelier and a dancefloor.
The possibilities are endless, and rather than setting boundaries, KVIT is a space that can be reinterpreted over and over, by whomever interacts with or within it.
This weekend we celebrate the year of boundless energy, creative conduct, artistic experiment and relentless devotion that has gone into every single art show or performance organized at KVIT.
We start off with an intimate dinner for artists and collaborators on Friday, where our friends from Heima, Iceland will dine with us, a live streamed elongation of our table.
Like a mirror or two realities playing out at the same time.

Join us on Saturday at 16.00 for the opening of the anniversary group exhibition to the public, with perfomances by Louise Jacobs and Josefine Struckmann Pedersen, amongst others, readings by Victor Boy Lindholm and Niels Munk Plum, in addition to so many captivating artworks by a number of KVIT's favourite artists.
Live from Iceland, close friends from HEIMA , a multidisciplinary art residency, will tune in to join the festivities.
On Sunday Vilde Tuv and Ida Engelhardt will keep the party going with a day rave, where one can enjoy a bloody mary and the good company of other KVIT-enthousiasts.
We look forward to seeing and celebrating with you, express our gratitude to our loyal visitors and collaborators, and to raise a glass to KVIT's continued existence.